Professional Foot Care
Simple cut and file                            Nail changes
Nail reduction                                    Hard skin/callus removal
Cracks and fissures                          Fungal nail treatments
Corn removal                                     In-growing nail
Verrucae / Wart treatment            Nail Correction
We provide clinical verrucae treatments; theseinclude either the treatment of the lesions with strong acids in a controlled manner or the use of cryotherapy. We are also able to advice on the use of home treatments, which can be purchased either from the clinic or local pharmacy.
Please do not be embarrassed with your feet, I enjoy my work and get great satisfaction when my customers leave my shop pain free and happy,
Below are the two most popular treatments.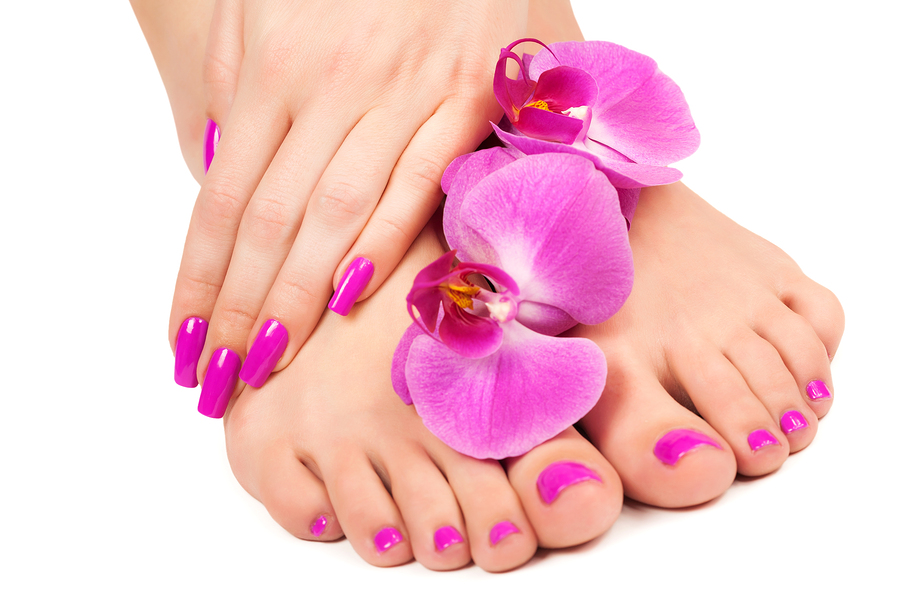 A spa pedicure is a treatment that cleans and removes the dead skin cells from the feet and toenails. It helps prevent nail diseases and infections. The pedicure also reshapes long or misshapen toe nails and finishes them up with either a clear protective polish or a fashionable colored polish. This treatment leaves your toes and feet looking beautiful, refreshed and well groomed. However, pedicures are not just limited to nails themselves; the feet and legs are also cared for and moisturized during this treatment.
Having a spa pedicure is a great way to indulge yourself with a relaxing treatment that not only helps you feel your best but also look your very best and protect your feet.
Spa Pedicure from £20.00
To include nail cutting / foot spa with moisturising soap and exfoliants / cuticle and nail work / callus and hard skin removal / nail varnish / foot massage and moisturising with softening and soothing 100% Natural creams.
Trimming and Shaping Your Nails
Caroline your foot care professional will first trim & shape your toe nails. It is important to have consistent, even nails with no frays or slivers. When Caroline  shapes your toe nails she  will also pay close attention to the sides of your nails to help prevent hang nails or in grown toe nails which can become sore or infected if not groomed properly. A more popular shape for toenails is the square oval. This is a soft combination of the square nail and the curved sides of the oval. It is a very popular style because it looks good on most feet. The square oval doesn't catch on socks and is easier to wear on a daily basis
The Healing Benefits of a Foot Spa
From your toes to your heels, these warm-water treatments will soothe and relax your tired feet  with a combination of  essential oil  foot moisturizing  foot soap and Epson salts, Epsom salt is a compound that can help flush toxins and heavy metals from your skin's cells, reduce inflammation, increase circulation and ease muscle cramps and joint pain. As your feet absorb the magnesium, pain-reducing ions are released, relaxing your muscles and nerves and helping them function properly by regulating your electrolyte levels. The sulfate targets any harmful substances that need to be eliminated from your body. Epsom salt can also quell foot odor, help heal fungus or ingrown nails, and soothe dry skin.
Cuticle Work
It's important to care for your cuticles because of the close proximity to your nails. It's easy to forget about your cuticles but they are a protective barrier for your nails and prevent bacteria from sneaking into the nail bed and protect the nails from infection. Caroline will soften the cuticles by soaking them in a warm bath. Then depending on the state of your cuticles Caroline will remove excess cuticles, push back your cuticles or do a combination of both.
Callous Contour
Caroline will also pay special attention to your callouses on your toes and feet. Caroline will use special lotions and devices to remove dead skin cells and soften the hardened skin areas. The callous contouring treatment will leave your feet soft and supple.
Foot Massage
Caroline will give you a soothing and healing foot massage  as well. This will relax your sore and tired muscles of your feet and legs. Your feet have are where your reflex points end in your body and relate directly to other parts and systems in your body. A foot massage not only relieves fatigue and relaxes your sore muscles but the stimulation of theses areas can have a beneficial and relaxing effect on your entire body.
Warm Paraffin Wax Treatment
This can be added to your Pedicure . Please request this when you book your appointment  as we need to allocate an extra 30 minutes to the treatment time. Please add an extra £15,00
Caroline  will follow up your massage with a luxurious Paraffin wax treatment. The wax will create a seal and will allow moisture to penetrate deep into your skin while the heat opens your pores and leaves your skin to be soft, smooth and supple.
Polish
The last step is to apply your chosen polish color to your nails along with a strong base coat and finishing coat to give you long lasting, beautiful natural nails. If you do not want colored polish, the manicurist can place a strong protective clear coat on your nails to strengthen your nails without the color. Many men come in for pedicures but want a clear coat rather than a colored coat of nail polish or none.
If you would like a Gel polish please add an extra £10.00 to treatment price  and reques.this when you make your appointment as we need to allocate extra time .
Use the Best
Your feet carry you around your world every day and they deserve to be pampered and well groomed. At The Hub New Mills we ready to help you attain the most beautiful feet possible. You are worth it and your feet are worth it.
Medical Pedicure  from £25.00
Caroline is a fully trained as a Foot Health Care Professional and is able to treat :
Corn removal / in-growing nails and nail correction / warts/verrucae / fungal infections / cracks and fissures / diabetic foot care / callus and hard skin removal .
All or some of the above is included in a medical pedicure. Please ask us if you are not sure which pedicure you require.