Microneedling Mesotherapy for hair loss treatments that combine the latest Fusion Mesotherapy products  with collagen stimulation. The Dermapen is a brand-new method of micro needling and has shown great results with Scalp conditions and hair loss. Combined with the correct active ingredients  the treatment has shown significant results with hair loss and scalp conditions such Androgenic alopecia, Alopecia areata, thining hair, scalp psoriasis, postpartum, thinning hair. dandruff greasy dandruff
Dermapen Microneedling and Mesotherapy Treatment
Combines two concepts, the first being advance collagen stimulation therapy and the second, the introduction of traditional pharmaceuticals vitamins, minerals, growth factors, biomimetic peptides and amino acids into the skin to target specific conditions
Collagen stimulation or collagen induction Therapy as it is also known has long been a popular and effective treatment. Origionally performed by a dermal roller, in recent years advancements have progressed from a hand held device to an electronic device that offers not only superior results but has also resulted in an increase in comfort for the individual receiving the treatment. It is also important to remember that not all practitioners are performing a fractional  Fusion Mesotherapy treatment. Fusion fractional Mesotherapy is a specialist treatment undertaken by practitioners that have specialist knowledge and training in Mesotherapy, providing the skills and ability to treat each client  individual condition, resulting in the best possible outcome.
The Fusion Mesotherapy products that are used within the treatments are of the highest quality  and contain the most advanced ingredients and unique formulas. When Fusion Mesotherapy is combined with collagen stimulation the results supersede or electronic needling results Why? Because having a true and in-depth understanding of each client's skin, flexibility to treat multiple conditions at the same time, the knowledge of how to use most advanced products, coupled with a superior device, provides us with the ability to reach and meet expectations overtime through our advanced treatment plans.
Mesotherapy History
Mesotherapy was discovered by the late Dr. MichaelPistor more than 60 years ago in France.According to Dr. Pistor, by definition, Mesotherapy is what he termed "surgical medicine" because it is the practice of placing medications by injection directly into the skin at the site of pathology or condition being treated.
Androgenetic alopecia
Androgenetic alopecia is a com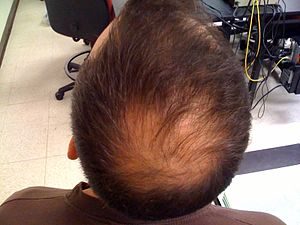 mon form of hair loss in both men and women. In men, this condition is also known as male-pattern baldness. Hair is lost in a well-defined pattern, beginning above both temples. Over time, the hairline recedes to form a characteristic "M" shape. Hair also thins at the crown (near the top of the head), often progressing to partial or complete baldness.
The pattern of hair loss in women differs from male-pattern baldness. In women, the hair becomes thinner all over the head, and the hairline does not recede. Androgenetic alopecia in women rarely leads to total baldness
Alopecia areata
Alopecia areata is an autoimmune condition where your own body's immune cells attack hair follicles. Most often, this leads to oval shaped patches of complete hair loss. This can affect any hair-bearing region of the body, including eyebrows/lashes and body hair. Alopecia areata is unpredictable—it can go away on its own, or it can expand to involve all the hair on the body. Dermatologists see this condition frequently, and often treat it with injections of steroids into the areas without hair in order to decrease the autoimmune reaction.
postpartum,
diffused thinning hair ,
hair loss, loss of vitality,
Psoriasis, dry itching inflamed skin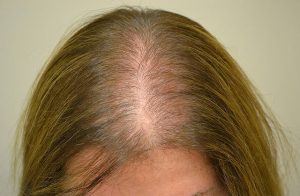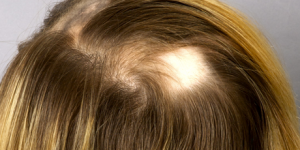 Mesotherapy for Hair Loss
By targeting specific areas on the scalp, Mesotherapy's bespoke blend of vitamins and minerals works to restore hair growth on the existing hair follicles. It can help to increase microcirculation and replenish the hair follicles with valuable nutrients to promote hair growth for healthier, thicker and fuller looking hair.
HAIR MEN, a hair mesotherapy product with growth factors and peptides for male androgenic alopecia. 
F-HAIR MEN is an effective mesotherapy product containing growth factors and peptides to achieve the best results in the shortest time against male androgenic alopecia and hair loss.
Hair loss (alopecia) is a common problem affecting both men and women. The most common being androgenetic alopecia (AGA) which represent 95% of all hair loss.
Hair is quite complex and each strand is composed of 2 structures:
– Above the skin = hair shaft – Beneath the skin = hair follicle
At the base of the follicle is the dermal papilla and extra cellular matrix (ECM). As papilla & ECM new cells grow, they push the existing cells upwards to form the hair. The dermal papilla plays a crucial role in the dermal / epidermal interactions and is of great importance for the hair formation and growth cycle.
F-HAIR MEN is an exclusive product that effectively treats alopecia, and is formulated with a blend of peptides, growth factors, organic silicium, pantenol and hyaluronic acid. It restores an effective micro-circulation of the scalp and revitalises hair follicles. It is an effective formula designed to fight thinning hairs, stimulate regrowth, stop men androgenic alopecia and hair loss.
A course of treatments is required for best results. 
Ladies and gents Androgenic Alopecia,  Alpopica Areata. Please feel free to book a free no obligation consultation
Treatment at a time £120.00
Course of 3 = £330.00
Course of 6 = £600.00
Course of 10 x £950.00
Procedure time 45 mins to 1 hour = No downtime
Finance is now available by clicking on Finance for treatments at The Hub