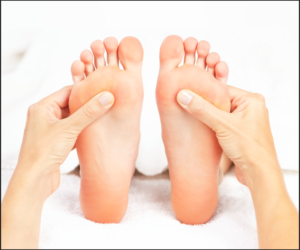 Does it tickle?
Reflexology is a safe and gentle therapy which may help to boost the body's healing systems. It is a therapy which has been used for hundreds of years and can be used on almost any client, there are a few exceptions such as foot fungal infections.
The feet mirror the body in that the major organs can be found on the sole of the foot. Through a systematic process of applying gentle pressure(which prevents the tickle sensation) around the foot which can bring about a feeling of deep relaxation and stimulates the body's ability to heal.
Reflexology as a therapy does not diagnose illness or issues nor is it a medical treatment but enables the body to balance itself and encourages the healing process.
At the initial consultation I will take details of health and lifestyle then look closely at the feet in order to map areas which may cause irritation, tenderness or pain. Whilst working on your feet I will continue these notes and throughout the session will hopefully start to relieve these feelings.