Work out for your face using holistic treatments, such as facial sculpting, facial cupping and facial Gua Sha.
Treatment time 1.5hrs £80
Welcome to a  therapeutic, holistic treatment, that can help to transform and sculpt your face. Ann will use a number of traditional therapies, including facial sculpting, Cupping and Gua Sha, that have increasing strengths and depths of effects to bring you results such as in the picture below.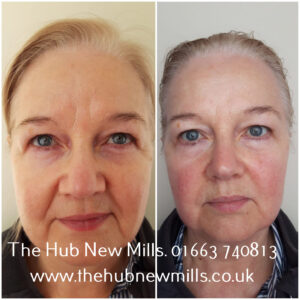 The aim is to:-
Reduce the depth and appearance of wrinkles.
Reduce puffiness and bloating on face and around the eyes.
Lift and tone sagging muscles of the skin.
Improve complexion. Your skin will look fresher from improved circulation= natural collagen production.
Moistens and hydrates the skin.
Tightens pores.
Increased feeling of relaxation and improve sleep.
The nature of traditional healing therapies works to increase the blood, fluid and qi flow to the treatment area as well as to introduce a healing response, which means that these techniques can be readily applied in the rejuvenation of your skin, in order to support wrinkle reduction, scars and blemishes/acne.
Before commencing your treatment, Ann will ask questions about your skin, lifestyle and find out details of your clinical history. This will allow us the chance to assess your skin in depth. Your skin is a vital organ and as such, we will treat it with care and respect.
Before commencing your facial treatment, all make up and related products covering your skin will be removed using quality facial products, that are cosmeceutical by design and will disperse through your skin, as opposed to sitting on the surface and blocking your pores.
Notes to consider prior to treatment.
When using sculpting, cupping and Gua Sha, there may be a possibility of some discolouration of the skin. This is because the body clears out the fluids, blood and stagnation that can be brought up to the surface of your face. This discolouration usually lasts 3-5 days, but if you have sensitive skin or especially deep stagnation, this can take up to 7-10 days to disperse. By drinking plenty of water 3 days before your visit, this hydrates your skin and you will be less likely to show these marks. Diuretics such as soft drinks (coke), alcohol and caffeine will dehydrate you. Don't worry though. Ann is highly trained and experienced with facial sculpting, having trained with Therapy Training – Total Therapy Training  and master and trainer Yakov Gershkovich in sculptural face lifting.
To finish off your treatment
you will enjoy having serums and hydrating creams, as well as a SPF 30 factor cream applied to your glowing and healthy looking skin. Please be aware that it is essential to use a SPF 30 factor on your skin when ever you are going outside.