1 hour treatment £40

Here at the Hub, we offer the Swedish massage, also known as the 'classic' massage, which is commonly known as the most widely recognized form of massaging.
How does Swedish Massage work?
Swedish massage consists of five strokes which all bring different benefits-
Effleurage (sliding or gliding)
stimulates the nerves in the tissues worked
stimulates blood supply to the tissues worked
facilitates cleansing of the skin
relaxes muscle fibres
reduces muscle tension
Petrissage (kneading)
stimulates the skin
improves muscle tone
improves the elimination of waste products from tissues
Tapotement (rhythmic tapping)
stimulates the skin and muscle reflexes
Friction (cross fiber), vibration/shaking.
sedates the nervous system
helps alleviate pain
stimulates organs like the intestines when applied to the abdomen or low back, or to relax muscles. What we're doing here is either one or two handed (hand over hand)
Usually, in the process, the therapist lubricates the skin with massage oil and performs the strokes. As the movements warm up the muscles, tension is released. Muscle knots called 'adhesions' are then gradually broken up.
We usually offer Swedish massage from £40, unless there's an offer on.
Benefits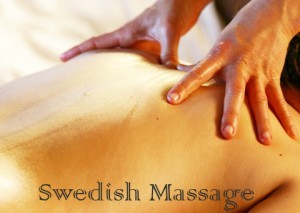 Effective at releasing anxiety
Reduces symptoms of stress and depression
Promotes better sleep (therefore making your body healthier)
Functioning of inner systems is encouraged
Helps flush lactic acid and uric acid from muscles
Increased flexibility
Enhances tissue elasticity
Increases oxygen in bloodstream
Decreases toxins
Enhanced joint movement
Relieves muscle pain
Relieves osteoarthritis symptoms
Massage therapist:   Amy and Caroline
We also offer other forms of massage: –